Deprecated
: mysql_connect(): The mysql extension is deprecated and will be removed in the future: use mysqli or PDO instead in
/home/voluntee/public_html/includes/class_db.php
on line
11
Don't leave home without...
ATM Card – ATM's are available in the larger cities, although international fees do apply. Ecuador uses the US dollar as its currency. Please note: It is important to inform your bank that you will be traveling internationally in Ecuador and will be looking to withdraw money.

Books & Movies – Leisure time is abundant!

Bug Spray

Camera – You are going to want to capture these views!

Desire to Learn!

Discretionary money – There are small stores in El Airo where you can buy fruits, vegetables, bottled water and sweet treats. Also, you will be responsible for any transportation cost while in El Airo. (this excludes your initial and final transportation to and from the community from Loja which is covered in the fee) Ecuador uses the US dollar as its currency.

Ear Plugs - Unless you are used to being around the morning crow of chickens, we highly recommend these gems!

Hat and/or Sunglasses – For extra protection against the sun.

Intention to give back to and support the development of El Airo!

Flip Flops/Shower Shoes

Light Weight Long Sleeves & Pants – Nights can be chilly in El Airo. Also, light weight long apparel is needed when working in the farms due to bugs. (This is a must bring item)

Long Socks - Rain boots purchased in Ecuador are tall, ending just under your knee. As a result, long socks are recommended.

Outlet Converter - Most outlets are 2-pronged, therefore we recommend bringing a 3-pronged outlet converter

Personal First Aid Kit - Your first aid kit should include aspirin or other neccessary medicines as well as band-aids, etc. as these are not available for purchase in El Airo.

Positive Attitude!

Rain jacket or Wind Breaker

Sturdy shoes – Hiking or work boots are needed. If you own rain boots, please bring them. If not, they may be purchased upon arrival to Ecuador. (This is a must bring item)

Sun Screen

Toiletries – This includes sufficient shampoo, conditioner and soap. You can buy these items in the larger cities but supplies are limited within El Airo.

Towel

Umbrella
Don't leave home without (optional)...
Cell Phone - The texting component of cell phones will work in Ecuador provided that you speak with your cell phone provider and have the feature enabled or international texting

Computer – A computer is necessary for movie watching or for personal use.

Games – This can be a great way to connect with your host family and guide.

Photos, Post Cards or Memorabilia – This is another great way to connect with community members and enhance the culture exchange.

Pocket Knife

Poncho (If you're coming between January to April)

Resources for Secondary Project – You will be responsible for providing any materials for Secondary Projects you choose to initiate.

Recipes - Sharing family recipes is a great way to connect with your host family and Airenses love learning to cook new foods!

Surge protector - Ecuador sometimes experiences rolling blackouts or a short-term power outage

USB Flash – This can be helpful to store written emails or other documents on so they are easily accessible when utilizing internet cafes.
See more photos on Facebook! CoffeeWorks: Help Harvest Dreams
Hear directly from a CoffeeWorks Volunteer Tourist on YouTube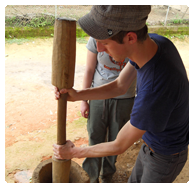 Volunteer tourist preps green coffee beans for cleaning.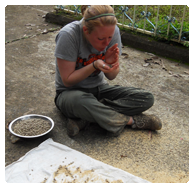 Volunteer tourist sorts and cleans green coffee beans for roasting.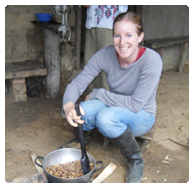 Volunteer tourist roasts coffee beans over a fire.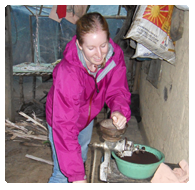 Volunteer tourist grinds freshly roasted beans, preparing them for a fresh cup of joe.