Deprecated
: mysql_connect(): The mysql extension is deprecated and will be removed in the future: use mysqli or PDO instead in
/home/voluntee/public_html/includes/class_db.php
on line
11
One of the main goals of CoffeeWorks is for every volunteer tourist to experience a rich exchange of culture and knowledge as they live, work and play alongside community members.
Primary Project:
When you come to be a volunteer tourist in El Airo with CoffeeWorks your focus will depend on the month you come. If you come between late April and early Septemeber your primary focus will be to assist an organic coffee farmer with full-cycle coffee harvesting and processing. These months are prefect for those with a deep interest in coffee! If you come between early September and late December your focus will be on other coffee related tasks and other crops. If you have a general interest in coffee these months will work for you even if you can't come during harvest. If you come between January and mid-April, agricultural work is limited to planting coffee and other crops due to rains. During this time the focus of CoffeeWorks concentrates on cultural immersion and is perfect for those with a limited interest in agriculture. Of course cultural immersion is part of the program year-round.
As a volunteer tourist your primary project will be helping farmers with his or her day to day farming tasks related to:
Coffee
If you come during harvest (between late April and early September) your contribution will be of significant impact because sometimes farmers cannot harvest and process the coffee beans as quickly as they ripen. During this time you will learn every step of the coffee process including harvesting, de-pulping, fermenting, washing, drying, sorting, toasting, grinding, packaging and marketing.
If you come outside the harvest season you will learn and help with other coffee-related tasks including selecting coffee seeds (beans), pruning, clearing land, de-weeding, creating organic pesticides and distinguishing between coffee varietals. You also will get to learn how to take the parchment off dry beans and toast and grind those beans.
Other Crops & Activities
No matter what time of year you come there will be work and opportunities to learn about a variety of crops. You will learn to identify, care for and harvest yucca, plantains and exotic fruits such as granadillas and naranjillas. You also may learn how to work with bees, pigs, cows, chickens or how to extract unrefined sugar from cane!
As you work with and get to know your host farmer, he or she will informally teach you about organic agriculture, their culture and the Spanish language.
Please keep in mind: Work pace and hours in rural Ecuador may differ from what you are accustomed to. Be flexible and relaxed in your expectations as work flow ebbs and flows. When it rains or there is minimal work to be done it is not unusual for farmers to only work a half day or take Friday as a weekend. On the other hand, during harvest farmers may work trough the rain and on Saturdays. Also, farmers at times have non-farming work to do. Most times they will include you in this work. This provides variety and a change of pace to your experience. Other activities can include baking bread, fixing motorcycles, cooking meals for visiting dignitaries, etc.
Note: CoffeeWorks will not be accepting volunteer tourists between January and March due to the heavy rains received annually in El Airo.
As you work with and get to know your host farmer, he or she will informally teach you about organic agriculture, their culture and the Spanish language. You will be a contributor to their success and share your culture with them as well!
See more photos on Facebook! CoffeeWorks: Help Harvest Dreams
Hear directly from a CoffeeWorks Volunteer Tourist on YouTube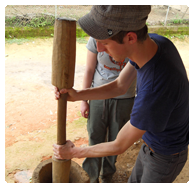 Volunteer tourist preps green coffee beans for cleaning.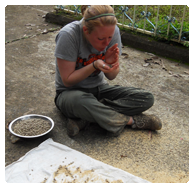 Volunteer tourist sorts and cleans green coffee beans for roasting.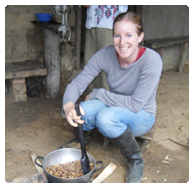 Volunteer tourist roasts coffee beans over a fire.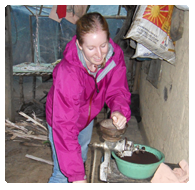 Volunteer tourist grinds freshly roasted beans, preparing them for a fresh cup of joe.