Deprecated
: mysql_connect(): The mysql extension is deprecated and will be removed in the future: use mysqli or PDO instead in
/home/voluntee/public_html/includes/class_db.php
on line
11
Although every volunteer tourist´s primary project is to assist an organic farmer with his or her day to day tasks there will be time available for secondary projects if the volunteer tourist so desires. Secondary projects require self-initiative. If you do not find something of interest below you are free and encouraged to propose a secondary project which will be checked against community needs. Please note your interest in the application form. Ideas are as follows:
Teaching English
Every volunteer tourist has the option to teach English in the primary schools. Volunteer tourists may also have the opportunity to build the capacity of the high school English teacher through conversational English.
In Ecuador, English has become an invaluable asset for securing stable jobs but rural children in El Airo do not begin learning English until high school. This is to their detriment as children in the city begin learning in primary school.
Cooking Classes/Health & Nutrition
If you have experience and/or education in health or nutrition, sharing this knowledge is a great way to contribute to the community as it addresses an expressed need. Workshops, classes or talks on these subjects may be arranged. Early childhood health and nutrition are a priority.
Business
If you have sales, IT or general business experience and/or education then you may be able to contribute to the coffee association's goal of selling their packaged coffee, Andes Café.
Tourism
If you have experience and/or education in tourism you may be able to contribute to CoffeeWorks goal of researching and potentially developing Coffee Tourism in El Airo.
See more photos on Facebook! CoffeeWorks: Help Harvest Dreams
Hear directly from a CoffeeWorks Volunteer Tourist on YouTube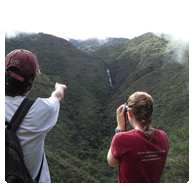 CoffeeWorks guide shows volunteer tourist El Airo's beautiful El Palmo waterfall.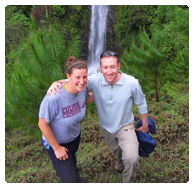 Volunteer tourists enjoy the views during a morning hike with their CoffeeWorks Community Guide.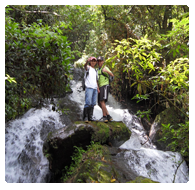 Volunteer tourist and CoffeeWorks Community Guide enjoy El Airo's rushing beauty.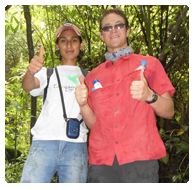 Volunteer tourist and CoffeeWorks Community Guide give the thumbs up after a successful morning hike.