Deprecated
: mysql_connect(): The mysql extension is deprecated and will be removed in the future: use mysqli or PDO instead in
/home/voluntee/public_html/includes/class_db.php
on line
11
Volunteer Tourist, Corienne - September 2011
...My guide Lenin and my family were my favorites...I felt welcomed and involved, sometimes more than I wanted to be! They spent time with me, did their best to converse with me and showed me La Guaca and surrounding areas...For me, El Airo was my first taste of South American wonders...the new foods are definitely part of the experience and very tasty... I would love to come back...I would absolutely love if the tables were turned and an individual from La Guaca came to visit me. El Airo is full of tranquility, something I still was growing acustomed to. The month is over, but I hope the friendships remain for a lifetime.
Volunteer Tourist, Mary - August 2011
The family I stayed with were great and they are beautiful people. The best moments were when I was invited to go with them to events or even to hep pick up trash in the streets. Overall it was a great time with the family - the food was delicious and the room was perfect.
Volunteer Tourist, Cynthia - July 2011
Living and working in El Airo is a truly unique experience. In 2 short weeks I learned to pick and harvest coffee, planted an apple tree, peeled several dozen yucas, hiked to waterfalls, danced in the rain at a big town party, and much more. Some of the best moments, however, were spent sitting around a table laughing and chatting with my host family and farmer. CoffeeWorks is more immersive than most other volunteer opportunities becuase you live and work only with community members, not with other tourists, so you speak Spanish and engage in the local culture 100% of the time. I learend a lot about coffee, but I learned even more about the lives of southern Ecuadorian farmers, and I improved my Spanish a ton to boot.
Volunteer Tourist, Megan - July 2011
CoffeeWorks was a really unique chance to be a part of a rural community and participate in work and family life as well as community activities that very few visitors to Ecuador get to experience. Everyone made me feel welcome and comfortable. I honestly would like to come back next summer and live with my host family again.
Volunteer Tourist, Christina - June & July 2011
I really enjoyed the experience very much! A true highlight of my travels through South America. I felt very welcomed as everyone was very patient with me and my Spanish learning. Since I was immersed, speaking only Spanish, I learned a lot, which was one of my goals for coming to work with CoffeeWorks. I made friends with the people in El Airo and learned a great deal about the culture and life in El Airo.
My host family was great! I love them and I will definitely come back one day to visit them! I liked the food they cooked, how they helped me with the language and just how they included me into their everyday life. I also had a great time with the children and all the "tias y abuelos"!
I learned the whole process about coffee growing - picking, de-pulping, washing and drying. They also taught me about the value of the coffee and answered all my questions. A great experience overall! I want to come back!
Volunteer Tourist, Angela - April 2011
What Angela had to say about one of her hikes with guide, Willan Rojas: The hike was great and didn't feel touristy or fake. It was beautiful and well worth the trip. The guides provided real information and a genuine experience. Also, we hiked with four men, two young and two older. It was interesting to see the differences in the generations, but also the way they were interacting and working together.
Hear directly from a CoffeeWorks Volunteer Tourist on YouTube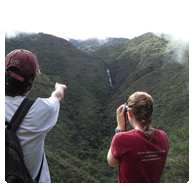 CoffeeWorks guide shows volunteer tourist El Airo's beautiful El Palmo waterfall.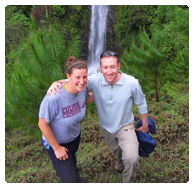 Volunteer tourists enjoy the views during a morning hike with their CoffeeWorks Community Guide.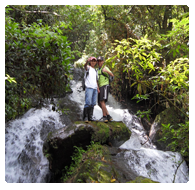 Volunteer tourist and CoffeeWorks Community Guide enjoy El Airo's rushing beauty.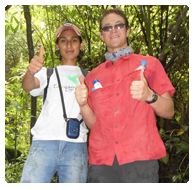 Volunteer tourist and CoffeeWorks Community Guide give the thumbs up after a successful morning hike.