Deprecated
: mysql_connect(): The mysql extension is deprecated and will be removed in the future: use mysqli or PDO instead in
/home/voluntee/public_html/includes/class_db.php
on line
11
Hike, Bike & Camp:
El Airo is a outdoor enthusiast´s paradise! There are several trails with amazing views both relaxing and that will get your heart pumping. Your guide will show you around these natural treasures. In late 2011, a self-guided trail system will open with maps and signage so that you can hike to your heart´s content! In addition, if you love biking there are mountain bikes and if you like trekking there are tents available for CoffeeWorks volunteers.
Day Hike to rivers and gorgeous waterfalls

!

Overnight Hike and Camp in the paramo eco-system in Yacuri National Park!

Mountain Bike downhill 12km from El Airo to the bottom of the mountain! (a truck can bring you back up)

Hike through coffee farms and low-lying cloud forests

!

Catch incredible views of endless mountain peaks and the valleys between them

Hike El Airo's highest peak, Mt. Airo
Celebrate:
Partake in cultural traditions by joining in town fiestas:
Fiesta de Las Cruces - May

Fiestas de San Vicente - June

Fiestas de los clubs deportivos - July

Fiestas de La Parroquia - August
This is the biggest and most important fiesta of the year! It commemorates the foundation of El Airo and beckons residents from all over Ecuador and abroad to return and share in the festivities.
Travel:
See more photos on Facebook! CoffeeWorks: Help Harvest Dreams
Hear directly from a CoffeeWorks Volunteer Tourist on YouTube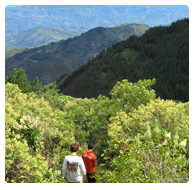 Volunteer hiking in the southern Ecuadorian Andes, led by a young community member.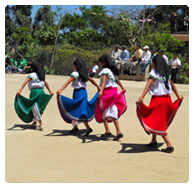 Children performing traditional Ecuadorian dances during the weeklong "Fiestas de la Parroquia" festival.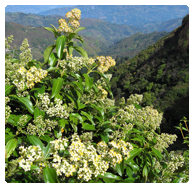 Flora in El Airo's Ecuadorian Andes.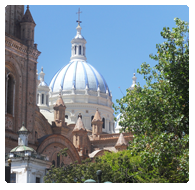 A stunning site, the dome church of Cuenca, Ecuador, rises above the city.